Altron Karabina, a leading technology solutions provider across Africa and the Middle East, earned the much-coveted Windows Server and SQL Server Migration to Microsoft Azure Advanced Specialization, and wanted to publicise this news across the broader African region.
DUO distributed this press announcement to 5 African countries as per the client's strategic focus including South Africa, Kenya, Botswana, Namibia, Mauritius.
Summary
Amongst the most influential media that picked up the release were CNBC Africa,  Africanews, Business Journal Nigeria, Africa Business, Ghana News, Africa.com, Fin News Africa, Kenyan Times and Pulse.ng
The company's website URL was posted on a minimum of 321 websites, including CNBC Africa, Africanews (Euronews subsidiary) and Pulse.ng, which improves organic referencing and branding.
The release was also picked up by The Guardian newspaper in Nigeria.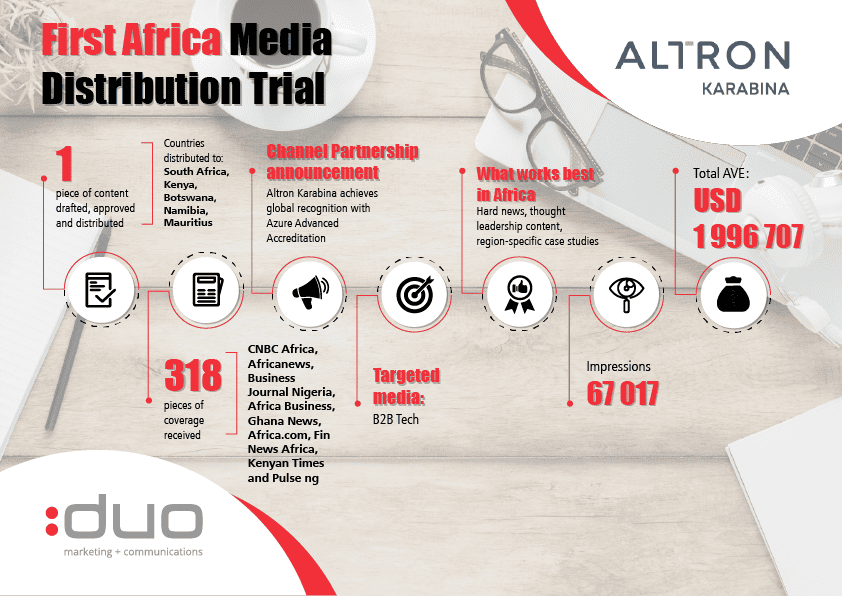 Would you like to work with DUO?
News from our clients
Anish Abraham
It is a bitter irony that in a country with an unsustainably high unemployment rate that there is a biting skills shortage, especially in the IT industry. In this environment, it is not unusual to [...]