Everlytic is a digital messaging platform that helps businesses communicate personally, reliably, and automatically using bulk email, SMS, and voice broadcasting – at scale. The company has extended its channel partnership programme across Africa, and was looking to amplify this news across the region.
DUO distributed this press announcement to 5 African countries including Kenya, Namibia, Botswana, Zambia and Ghana.
SUMMARY
Amongst the most influential media that picked up the release were CNBC Africa, Africanews (Euronews subsidiary), pulse.ng, The Guardian
The company's website URL was posted on a minimum of 340 websites, including CNBC Africa, Africanews (Euronews subsidiary) and Pulse.ng, which helps improve organic referencing and branding.
The release was also picked up by The Guardian newspaper in Nigeria.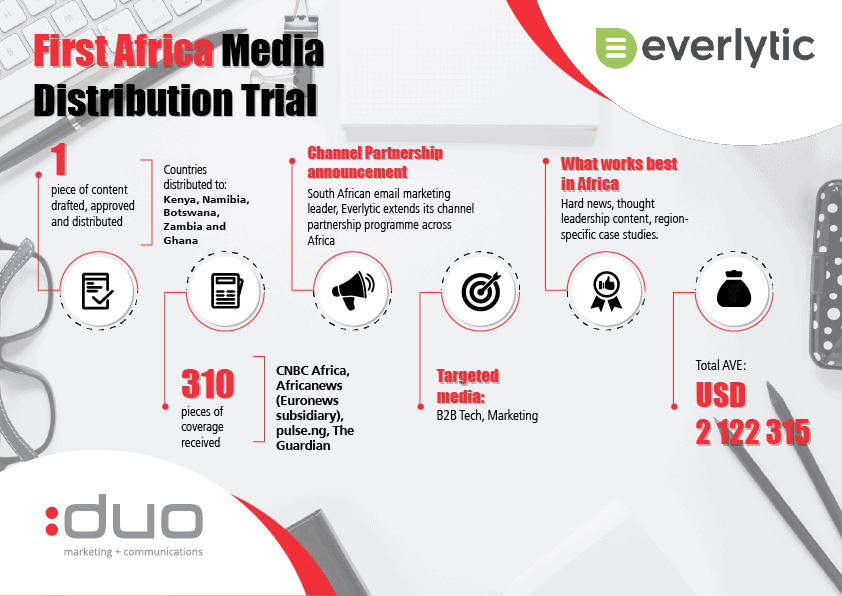 Would you like to work with DUO?
News from our clients
Anish Abraham
It is a bitter irony that in a country with an unsustainably high unemployment rate that there is a biting skills shortage, especially in the IT industry. In this environment, it is not unusual to [...]