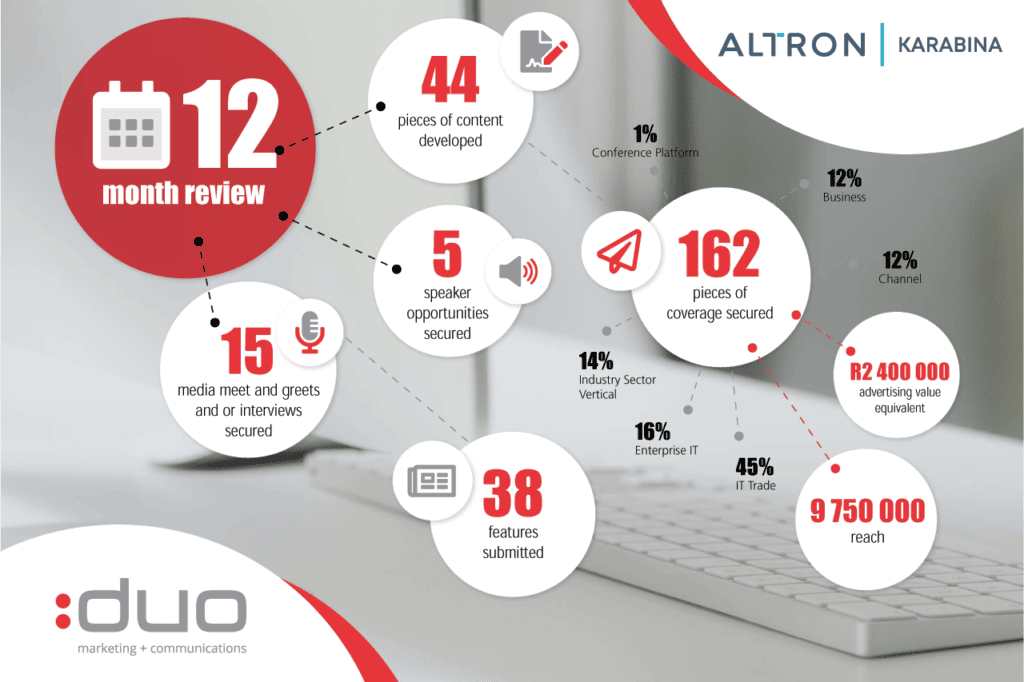 Altron Karabina was looking to boost engagement of current and potential customers with the brand, in order to raise awareness about the company and its area of expertise, and to position business unit leads and other experts within the business as thought and industry leaders.
Objective
The aim was to showcase the organisation's differentiators in the market, encourage customer consideration, and increase visibility of the company as a leading Microsoft Gold Certified Partner with a lengthy track record of delivery.
An additional objective was to increase brand association between Altron Karabina and the broader Altron Group, following their acquisition in June 2018 in order to establish further trust and credibility in the company.
Solution
Public Relations was used to support these objectives through news updates around new offerings and partnerships, as well as showcasing the company's expertise and track record in the local industry through numerous thought leadership pieces and features.
This was achieved, particularly through in-depth feature contributions and by answering editor's questions, which was further repurposed for use as a blog on the company website. Meanwhile, thought leadership pieces targeted at business media would be used to build awareness and position business unit leads and other experts as thought and industry leaders.
Meet and greet opportunities and interviews would be set up on an ongoing basis to build relationships with key media and influencers to foster long-term interest in Altron Karabina and its offerings.
Results
Over 40 pieces of content were created and distributed during the period under review, with 162 pieces of coverage were generated. The majority of coverage appeared in IT Trade media (45%), followed by Enterprise IT (16%), Vertical media (14%), Business (12%) and Channel (12%); which was in line with targets. Strong business media results demonstrated the ability to leverage the news agenda, combined with spokespersons' willingness and availability to provide rapid response commentary and a strong opinion.
The majority of vertical media coverage came from Human Resources publications (55%) as a result of the digital workplace and automation thought leadership articles placed with them. This was followed by coverage in Engineering News, targeted at the manufacturing, transport and logistics industry as well as coverage in finance; marketing and retail publications.
The main coverage driver was thought leadership (47%), followed by features (20%) and press releases (15%), with the main message pulled through relating to Altron Karabina being a Microsoft partner and offering Microsoft solutions and expertise. This was followed by messaging around innovation, the company's investment in its employees, and expertise in digital transformation.
Highlights
Fifteen media meet and greets and/or interviews were secured, helping build a relationship between relevant members of the media and key spokespeople at Altron Karabina. In all, the Advertising Value Equivalent (AVE) secured represented a nearly three-fold return on investment into Public Relations.
Would you like to work with DUO?
News from our clients
DUO Admin
There are varying degrees of denial about the truth that cash won't be king forever. Of course, many regions around the world are well on the journey to full digitisation, while others, like Africa, are [...]
DUO Admin
Ongoing investment of billions of rands by multiple businesses into the country's digital ecosystem - ranging from fibre optic cables to wireless networks and the data centres that host the content we consume - bodes [...]