Telviva, formerly Connection Telecom, is a market leader in cloud-based communications for business. DUO used PR and digital marketing to help consolidated multiple business identities into a single brand.
Challenge
Telviva, formerly Connection Telecom, is a market leader in cloud-based communications for business. By seamlessly integrating voice, video and chat in one intelligent platform, Telviva enables businesses to have better quality conversations with customers, suppliers and staff.
For several years, the company presented a portfolio of brands, namely Connection Telecom, Telviva and Fat Budgie, and worked closely with DUO to consolidate these brands under the Telviva banner in order to better align product understanding and messaging.
Solution
In addition to traditional public relations and search engine marketing, DUO recommended that Telviva make use of LinkedIn in order to highlight the merger between the multiple brands, and to grow the Telviva company profile page using a variety of advertising objectives.
The campaigns were highly targeted, focusing only on executive decision makers and senior influencers from organisations across a range of industries, as well as organisations identified by Telviva, in order to augment their sales campaigns.
Campaign objectives would include website clicks, in order to drive referral traffic to the Telviva website, as well as engagement campaigns that helped improve reach and reader interactions, and grow the page following from among a highly relevant audience.
Results
Over a 10-month period, a total of 30 LinkedIn campaigns were carried out to strengthen awareness of the Telviva brand, to showcase customer success stories, amplify thought-leadership content, highlight the company's products and services, and to attract a highly relevant following for the company page.
A total of 19 website clicks campaigns were carried out, primarily to raise awareness about the Telviva One unified communications platform, as well as to drive referral traffic to the website, gaining 13 207 impressions and reaching about 8 107 high value individuals and securing 83 advert clicks on average. Eleven engagement campaigns were carried out over the same period, recording on average 5 791 impressions, a unique reach of 4 181 and 71 advert clicks.
Tight audience targeting ensured that there was very little visibility of advertising among entry-level employees or from organisations that did not fit Telviva's ideal customer profile. LinkedIn members reached by advertising held titles including MD, CEO, Director, Owner and Founder and worked in industries including Telecommunications, Information Technology and Services, Financial Services, Higher Education, Management Consultancy and more.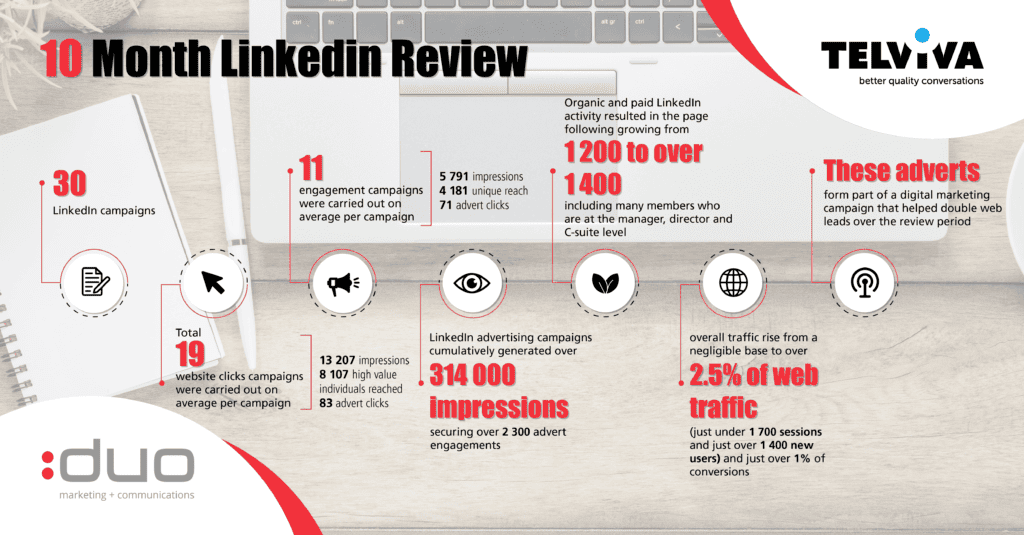 Highlights
Overall, the LinkedIn advertising campaigns cumulatively generated over 314 000 impressions, securing over 2 300 advert engagements. Overall, organic and paid LinkedIn activity resulted in the page following growing from 1 200 to over 1 400, including many members who are at the manager, director and C-suite level.
Increased activity through the official company page has seen the contribution of LinkedIn to overall traffic rise from a negligible base to over 2.5% of web traffic (just under 1 700 sessions and just over 1 400 new users) and just over 1% of conversions.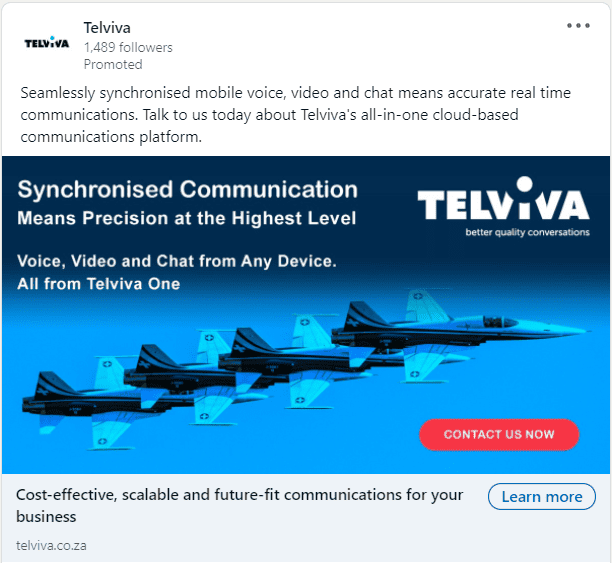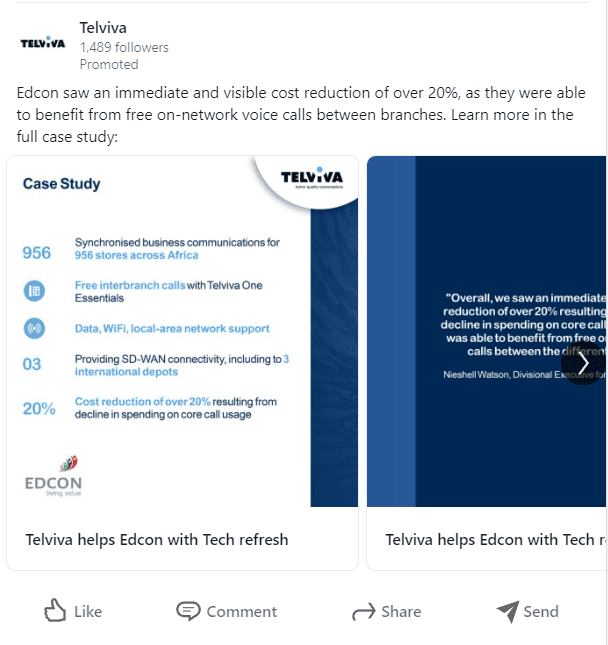 Would you like to work with DUO?
News from our clients