DUO provided a full service marketing and communications solution to help position Telviva as a market leader in cloud-based unified communications and collaboration (UC&C) and contact centre solutions for businesses, as well as to drive referral web traffic and lead generation.
Challenge
For several years, the company presented a portfolio of brands, namely Connection Telecom, Telviva, Fat Budgie and AnD Communications, and has worked closely with DUO to consolidate these brands under the Telviva banner in order to better align product understanding and messaging across traditional and digital activities. Bringing together these previously disparate brands, which had their own distinct identities, required a comprehensive refresh in marketing and communications.
Solution
DUO provided a full service advisory solution that included developing a new visual language and brand messaging that served as the foundation for all traditional and digital marketing, and internal and external communications, and managing all resulting activities. This included the development of new visual language and messaging, brand guidelines, websites, SEO, search and banner ads, newsletters, public relations, social media, advertorials and digital advertising with online publishers and more.
Results
As part of the amalgamation of the multiple offerings into one Telviva brand, a new visual identity and messaging, and brand guidelines was created and approved, with creative content being developed in accordance. DUO's role included the coordination of all marketing and external communications activities for Telviva. Marketing collateral designed and developed included company profiles, brand guidelines, brochures featuring QR codes and templates for presentations and newsletters.
In addition to its South Africa, Telviva was looking to expand in select international markets, and worked with DUO to raise brand awareness among highly relevant audiences in those countries. This included the company's debut as an exhibitor at Mobile World Congress (MWC) 2022 in Barcelona.
In order to support Telviva's presence at MWC, DUO coordinated the design of the company's stand, as well as marketing material for use during the event.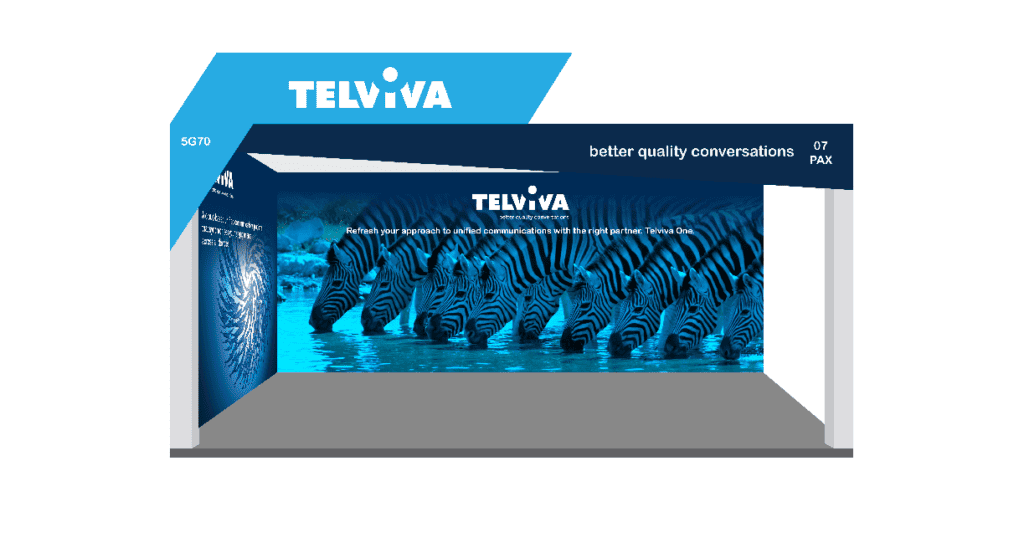 Following the approval of new visual language and messaging for the brand and its various product offerings, there was a requirement to build a new Telviva.co.za website to reflect this. The written content and imagery used to convey the idea of synchronicity – how bringing together multiple modes of communication enables organisations to have better quality conversations with their employees, customers and suppliers. This also allowed the company to move away from stock imagery that is widely used by organisations and media in the ICT industry.
Old website: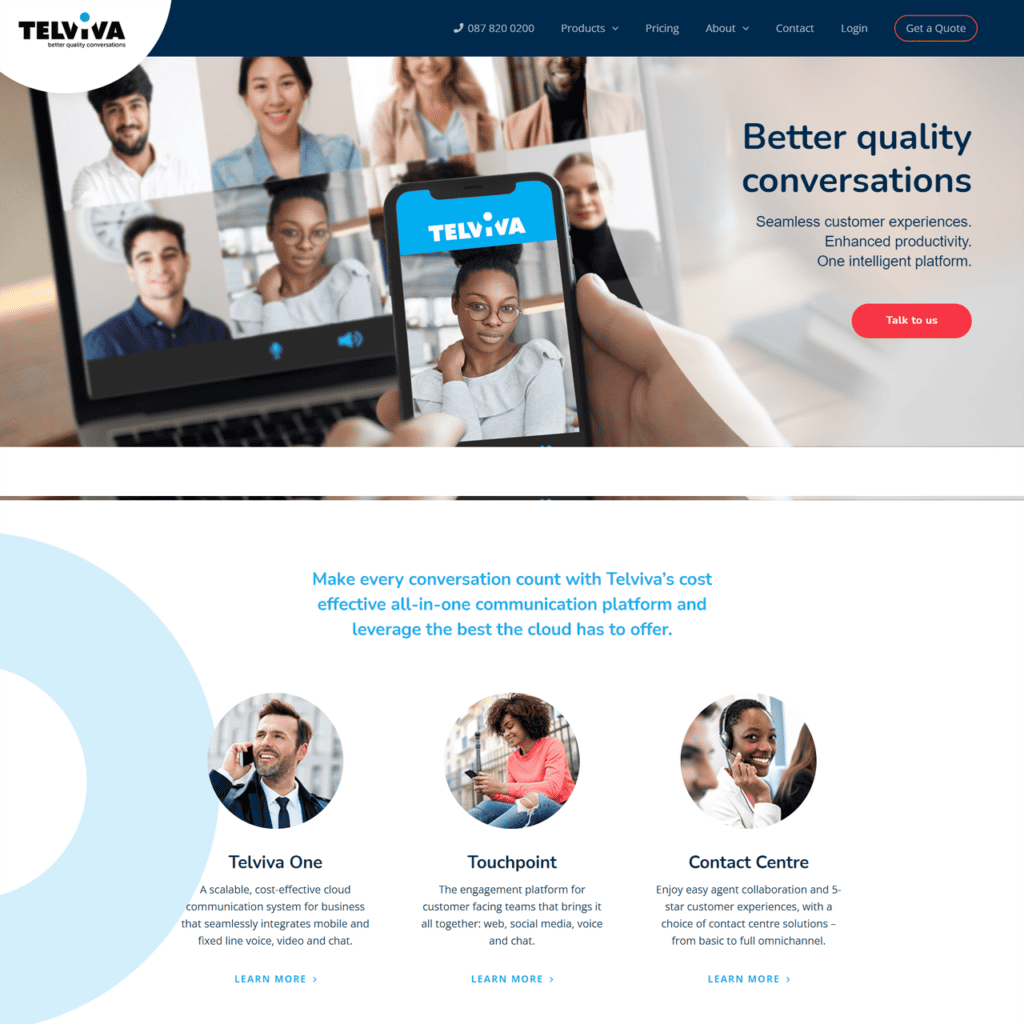 New website: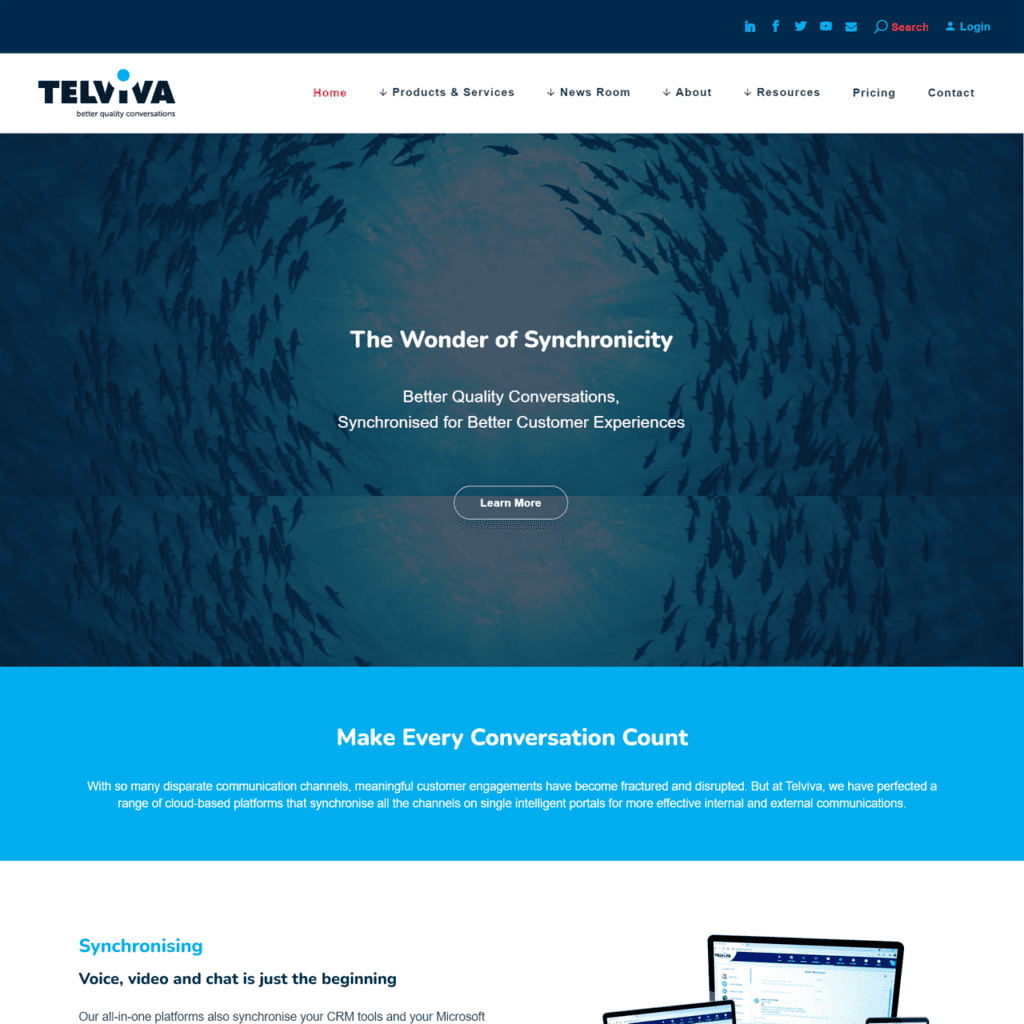 With Telviva also entering the global market, with a first international customer from North America, and a European soft-launch at MWC, a Telviva.com website was developed to focus on appealing to potential international partners and resellers. This included the development of a dedicated landing page to support the company's participation at the global event.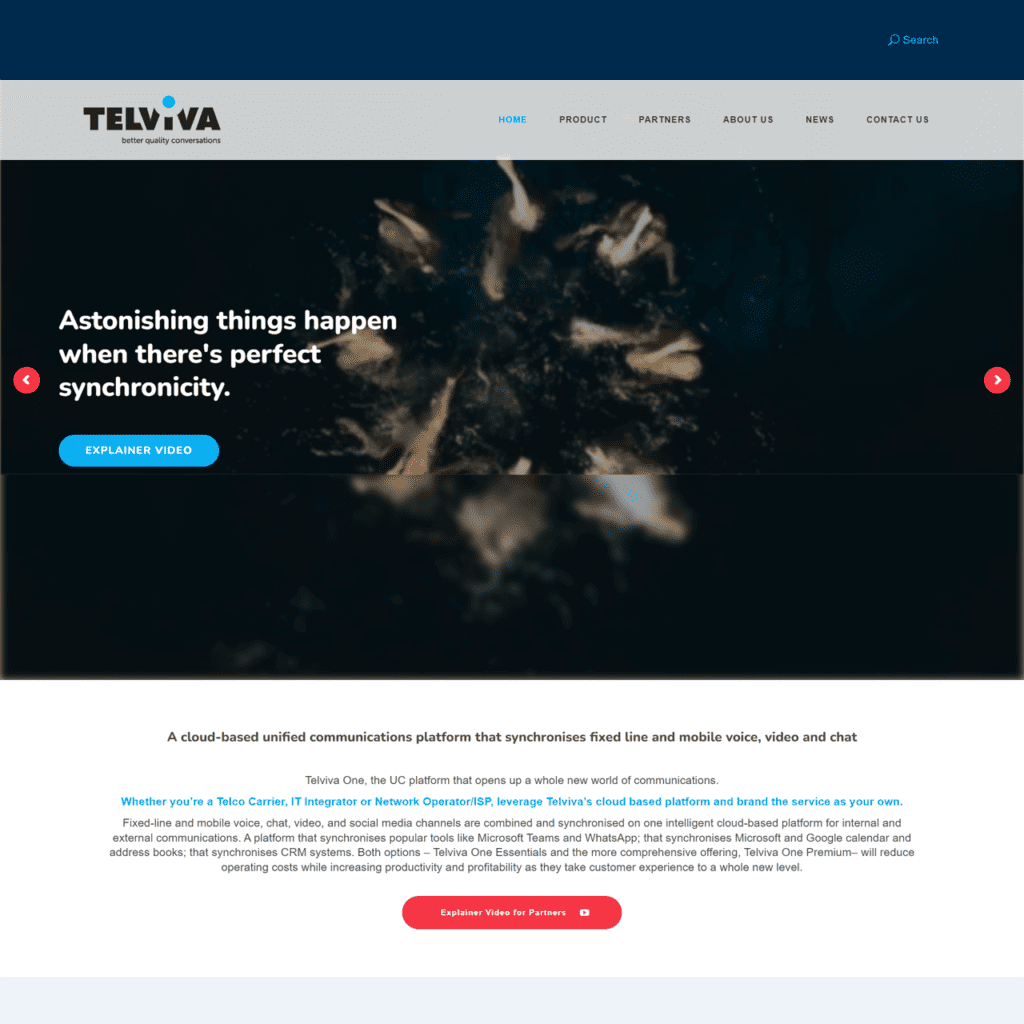 Eleven original thought-leadership articles resulted in 50 published pieces of coverage across various media, including business, technology, retail and more. Content developed was also modified and used for 29 advertorials across publications such as BizCommunity, Business Day/ Financial Mail, ITWeb and TechCentral. In addition, two interviews were secured with Retail Brief Africa and Topco media, while six case studies were developed following interviews with customers.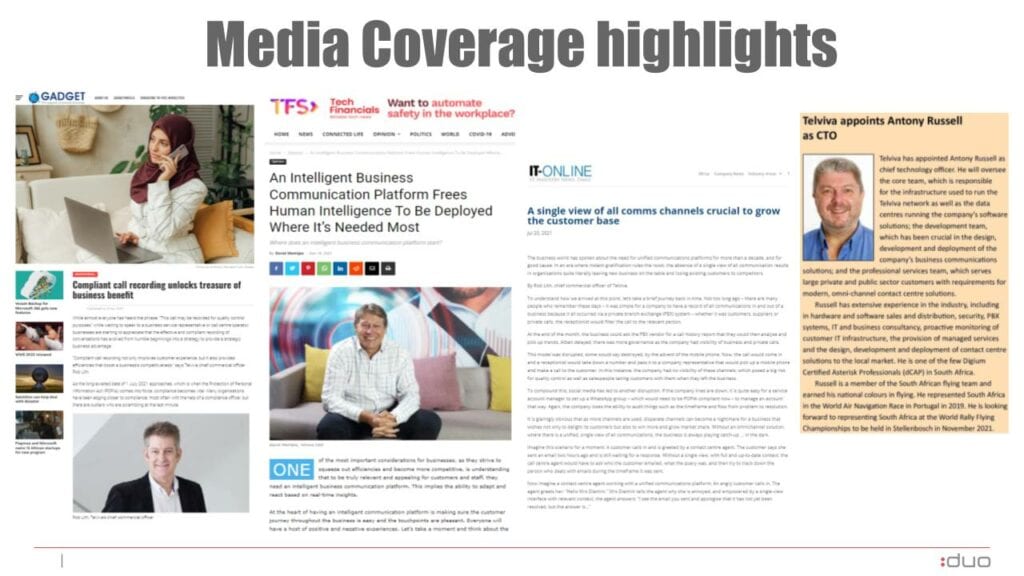 To make optimal use of limited time available with senior company leaders, 13 blogs were drafted from content sessions, alongside public relations content. These blogs were used to generate content for the company website and for social media. This included social media advertising campaigns aimed at increasing reach and engagement, and growing page followers.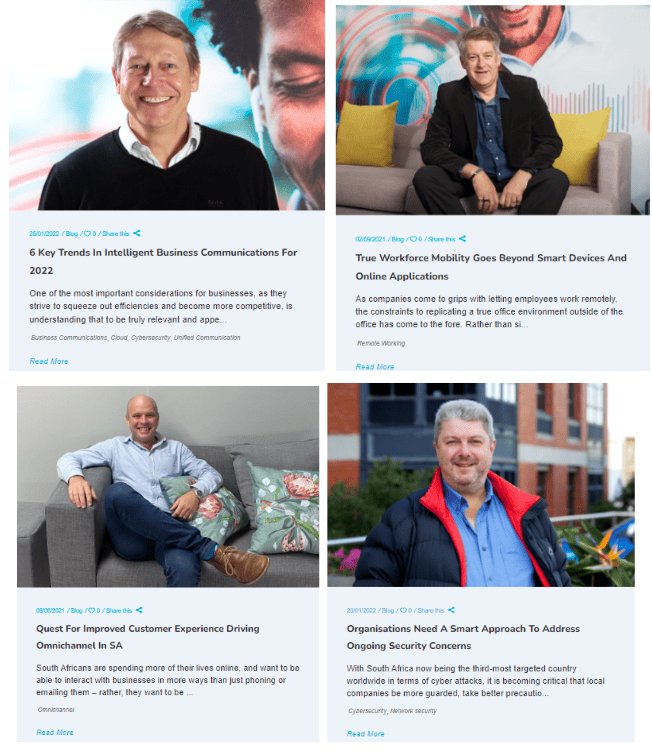 The publishing of over 170 organic posts and 42 sponsored campaigns on LinkedIn generated over 750 000 impressions of Telviva content, helping grow the page by 29%, which includes senior decision makers and influencers at relevant organisations and industry sectors. Six campaigns developed to support the company's participation at MWC secured over 130 000 impressions among senior decision makers and influencers at European telecoms companies.
While Facebook was not a main focus, the addition of over 160 posts to the company page, as well as 25 low-scale campaigns helped generate over 1.2 million impressions of Telviva content, with the page growing by 18%. LinkedIn and Facebook campaigns focused on regional audiences were also carried out to drive brand awareness of AnD Communications, a Telviva subsidiary based in KwaZulu-Natal.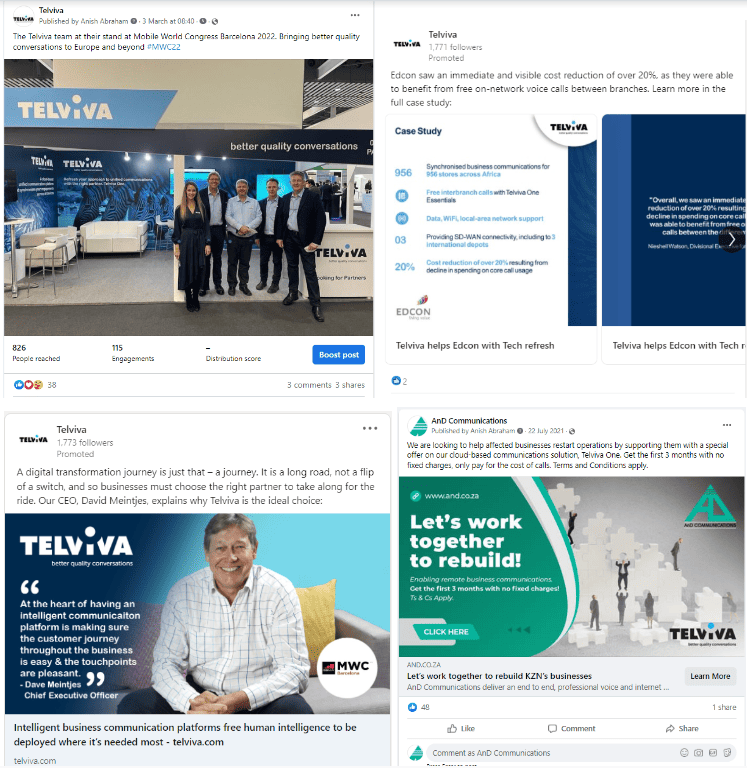 As part of scaling up marketing and communications activities, an email marketing solution from Everlytic was adopted, with templates built for use by sales, billing, human resources, and other relevant news being shared with customers.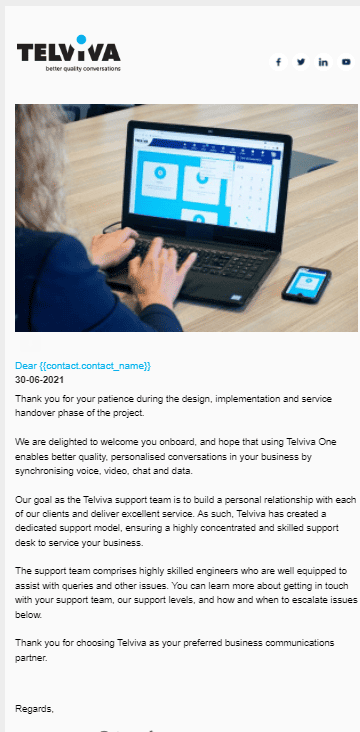 With both audiences and content platforms increasingly giving preference to video content, DUO created several videos for Telviva over the course of the retainer. These ranged from product explainers, to interviews with key company executives.

Visual content was developed to highlight the company's case studies, with the benefits enjoyed by customers being highlighted in an infographic format. These were used as part of organic posts, as well as highly effective advertising campaigns on LinkedIn and Facebook.

Banner ads were also run on relevant online publishing platforms in order to reach the right target audiences. Banners were posted on platforms including BizCommunity, Business Day, Business Times, Financial Mail, and TechCentral, driving the Telviva brand presence with over 1.26 million impressions secured.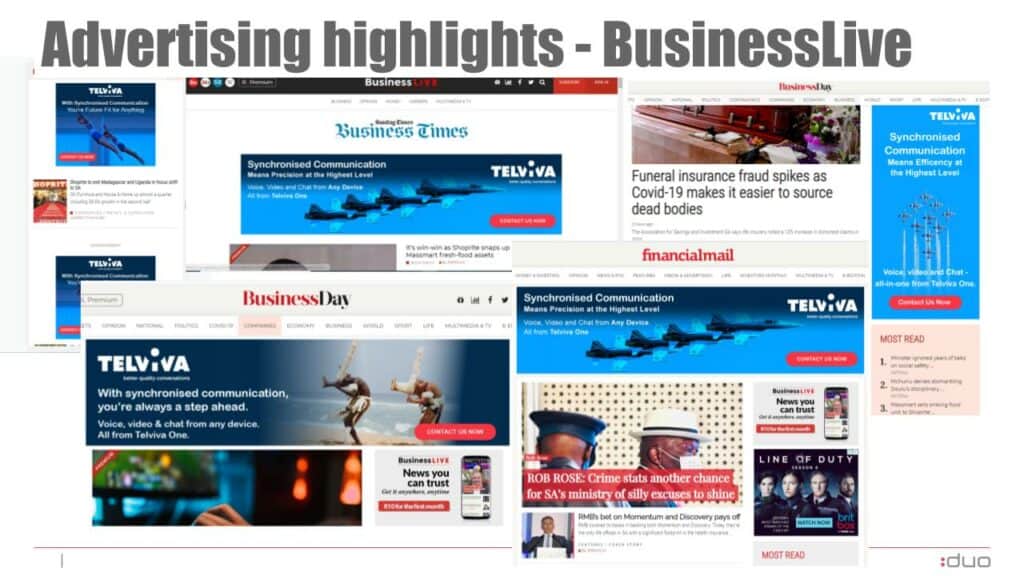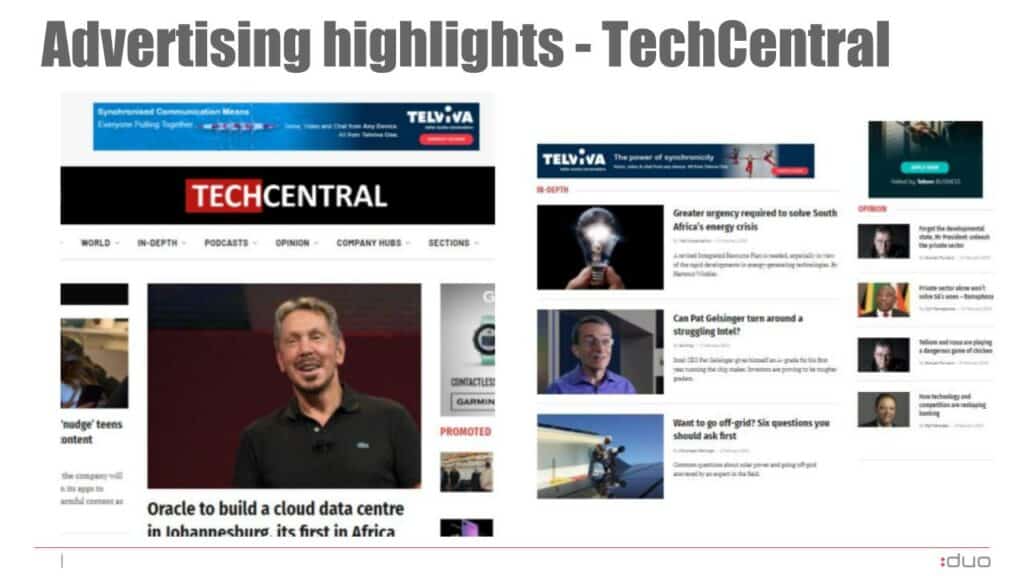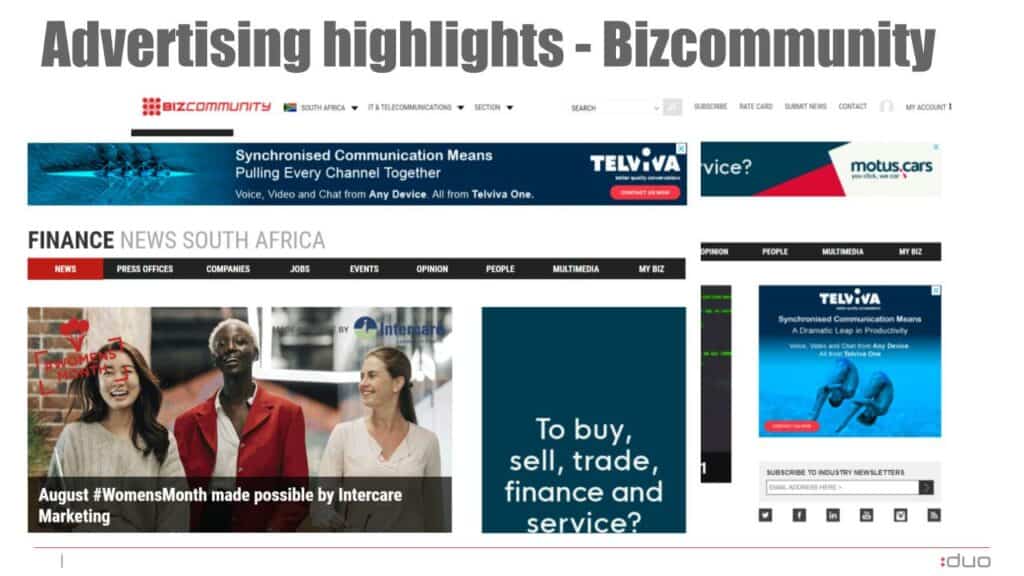 Highlights
The highlights over the year include the development of a new visual language and messaging, and using this to build two new websites, updating company marketing collateral, in PR editorial and advertorial content as well as in advertising campaigns.
With high quality content as the foundation, DUO was able to carry out a variety of marketing and communications tactics in order to establish Telviva as a leading Southern African unified communications as  a service (UCaaS) provider for businesses, maintain its brand presence among relevant senior decision makers and influencers, and drive referral traffic to the website.
Looking further, DUO was privileged to support Telviva on its first visit to Mobile World Congress as an exhibitor. This included branding and marketing material for the physical stand, highly-targeted LinkedIn campaigns aimed at senior leaders at telcos in select European markets, as well as post-event public relations and digital activities.
Would you like to work with DUO?
News from our clients