2016 has been a year of digital discovery for many, but measurement, ROI and integration with the traditional marketing mix are still seen as stumbling blocks, especially for small(er) businesses.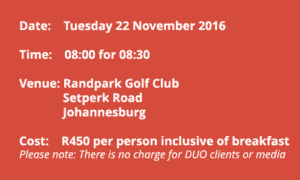 We invite you to join the DUO Marketing + Communications team for a lively discussion about what the future of digital marketing looks like, the trends for 2017 (and beyond) and take some notes from our keynote speaker, Vera Romano, Head of Online at Vox Telecom, about why content (and not the platform) is the lynchpin for digital integration into your existing marketing mix.
Dominique Pienaar, regional manager for Gauteng, will share highlights and key learnings as we continue our shift into becoming a more digitally integrated organisation, and what this means for our clients.
Please RSVP to [email protected] by 15 November to confirm your attendance and dietary requirements.
Speaker Profile: Vera Romano, Head of Online, Vox Telecom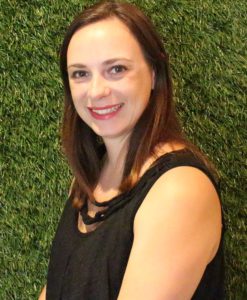 Vera Romano has been living the marketer's "slippery, but fun" slope for the past 15 years. Her times working with an insurance company, a tyre manufacturer, an education group and now a software company provide for many anecdotal stories about her experiences and lessons learnt.
Vera loves talking marketing, and more specifically, anything related to digital marketing, and feels that just as think you know what you're in for, the landscape changes and it's time to recalibrate. It helps to keep the boredom gremlins away – that's for sure.
She is passionate about being a "modern marketer" and committing herself to evolving with the digital changes in her environment.
Speaker Profile: Dominique Pienaar, Regional Manager Gauteng, DUO Marketing + Communications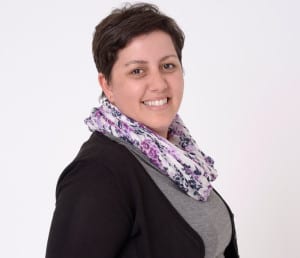 Dominique has been working in public relations for more than 17 years, six of which were spent running the local office of a global technology PR agency. Having worked in corporate communications for a global agency, Dominique made the purposeful decision in 2002, to move into ICT PR, realising that the place to be for innovation is in this sector. Since then she has worked on global and local B2B brands that include Microsoft, IBM and Amazon.
She is passionate about delivering solid consultancy to clients, and finding ways to translate the complexities of techno-speak, in a way that is understandable to the least tech-savvy audience.
Her career highs include working on media engagement programmes for Bill Gates and Steve Balmer and a media blitz for the local launch of the Amazon Kindle.