DUO Marketing + Communications, a specialist technology Public Relations and Digital Marketing Agency has been selected as a media partner for this year's East AfricaCom Conference, which takes place in Nairobi, Kenya, between 18 and 19 May, 2016.
DUO is a specialist technology communications and digital marketing agency with a proven track record in Africa," says Judith Middleton, founder and CEO. "Our strong relationships with tech, financial and business journalists across the continent makes this partnership with East AfricaCom ideal, as it enables us to showcase and drive interest in the biggest enterprise technology event in East Africa."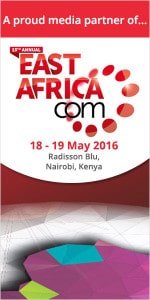 Now in its 13th year, East AfricaCom represents the most advanced region of the continent when it comes to mobile and digital communications, mobile money, and ICT development. It is the premier event for ICT and telecoms senior executives, championing the transformational impact of digital communication on people and businesses.
The event showcases innovators and business leaders that are driving the next phase of growth in the digital ecosystem, spanning from high-level infrastructural projects, reducing the costs of 3G networks, broadband and LTE rollout, and boosting data usage.
Just under 40 speakers have already been confirmed. They include senior executives from communications companies, including Airtel, Intelsat, MTN, Orange, Tigo, and Vodafone; several representatives from government; from financial services companies; from media and broadcasting companies; and several industry analysts.
With Kenya's entertainment and media industry valued at US$1.8-billion, this year's event will feature a broadcasting stream for the first time, and representatives from a few broadcasters are among the speakers too.
Other focus areas for this year's event include innovation around mobile products, effectively bundling digital content, addressing rural communications challenges, streamlining technical operations, and launching a fibre TV channel in the digital age.
"A growing number of DUO's clients are partnering with other local and global technology companies to expand their footprint across the African continent and take advantage of the numerous opportunities being presented," says Middleton.
"As they do so, we find that they require the services of a specialist PR and digital marketing agency to communicate the business value of their technology, in a simple and effective way."
To find out more about East AfricaCom, and to register, visit their website. You can also follow @AllAboutCom and #EastAfricaCom on Twitter for the latest updates.
DUO Marketing + Communications is also a media partner for AfricaCom 2016, which takes place later this year in Cape Town.