Short videos have taken social media by storm – Facebook reports over 1 billion video views per day, Twitter acquired Vine to further its short video platform, while leading global brands like Nike and GoPro more than doubled their Instagram followers in a year by increasing use of video.
And this explosion in video is also apparent in the local market. According to the World Wide Worx South African Social Media Landscape 2015 study: YouTube had reached an active user base of 7.2-million South Africans by August 2014, making it second only to Facebook's 11.8-million, while Instagram grew from 680 000 active users in 2013 to 1.1-million in 2014.
Just over half of the South African brands surveyed for the study also said they would increase spend on social media, with 60% of those saying they would spend more on multimedia content.
A brand with an active social media presence can make fuller use of digital media by posting several images to their Facebook albums or Instagram accounts, making use of live tweeting from events.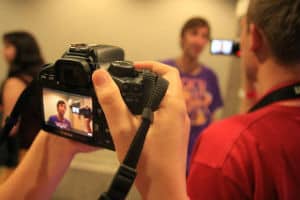 Public Relations agencies have traditionally stuck to press releases, case studies and white papers in their submissions to the press for coverage, but in the age of digital and social media, they should also turn to video to promote content.
This is especially useful when clients take part in, or host conferences or exhibitions, or have product launches, where media outlets – especially those that also have an online offering – can be further persuaded to use content because of the value added by giving them access to high quality photographs and short, sharp videos.
Videos help not only because they can bring press releases to life, but because they enable people to digest more information with less effort. What is important though, is to make sure that your video offers 'something extra', and doesn't just repeat what is already written in the press release.
Alternatively, longer videos can cover an entire presentation, or a full-length interview with company spokespeople or executives.
As the cost of data continues to decline, and smartphones become more affordable and accessible, the increased use and consumption of video is set to continue. Make sure your brand is well-positioned to take advantage of this trend.