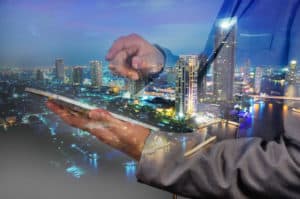 The term 'smart cities' is a buzzword being used within governments, the private sector and among academics, and describes new digital technology being used to improve old practices and policies in urban areas around the world.
According to technology research firm, IDC, the smart cities concept is "a construct in which to frame local government transformation. Cities need to transform in order to develop sustainably, improve resilience, meet citizens' rising expectations, and attract investment, new businesses, and talent."
Speaking at an AfricaCom Stakeholders roundtable hosted by Accelerate Cape Town recently, Rudy Abrahams from the City of Cape Town shared the council's digital strategy, and outlined the benefits becoming a smart city could bring Cape Town. His discussion focused on four pillars of a smart city or digital Cape Town:
Digital Government – driving transparency, enhancing service delivery and promoting citizen engagement through ICT.
Digital Inclusion – closing the digital divide by promoting digital access, improving digital skills and driving digital initiatives that enhance quality of life.
Digital Economy – creating an enabling environment for the growth of tech-enabled enterprises and maximising its job creation potential.
Digital Infrastructure – ICT infrastructure roll-out and using digital solutions to enhance the effectiveness of critical city infrastructure.
This led me to think about how the advent of smart cities needs to be communicated to the citizenry, the people who will be impacted most by these technological advancements. The focus is placed on not just communicating the message but doing it well. The onus will be on bloggers, experts – corporate or agency – as well as journalists to understand what is happening and translate this into something meaningful for the people affected.
One of our clients, Huawei Enterprise, hosts an annual Safe City Africa Summit which looks at safe cities being the foundation for smart cities. Our communications objective, to promote the summit, was to highlight their conversations with stakeholders about some of the most common challenges present in cities – insufficient risk perception and early warning capabilities – coupled with Huawei's solution, especially for public sector entities to eradicate these problems.
The requirement for clear, concise, easy to understand content was a critical success factor, and provided a platform for offline discussions.
The process of development of smart cities is one that includes the introduction of new services and products and ultimately a new way of doing things, which means that communications professionals need to look at bridging the gap between these elements, which are often complex to understand and involve numerous stakeholders, and the citizens that they affect.
Transparency may not be an easy pill to swallow for both the individuals behind the development or the communicators because of critical judgement and public opinion but there is no doubt that a transparent process is crucial for smart cities to be sustainable and reach their objectives as well as to improve the lives of citizens.
It is of utmost importance to get the message across in a clear way, clarifying objectives, successes and failures without bias.
The challenge for communications agencies is to stay at the forefront of these developments, and it is why we pride ourselves on being a specialist tech communications agency. Tech is at the heart of everything we do and that is why we service technology clients who are changing the world as we know it.