Early this year, money transfer company WorldRemit, launched by Somali Ismail Ahmed, raised US$45 million to grow its operations. Investors are backing money transfer firms to challenge the hegemony of incumbents Western Union and MoneyGram.
And why not? Remittances is a huge industry – more than 30 million Africans in the diaspora send home US$40 billion each year. But the duopoly of Western Union and MoneyGram has kept costs high – fees of over 12 per cent are required to send home US$200. Total annual fees amount to US$1.4 billion.
Services like WorldRemit, which allows individuals and businesses to remit funds via a smartphone that can then be collected by a user in the form of bank transfer, mobile money payment, or airtime, are shaking up an industry that needed disrupting.
Sometimes a backwards step is needed
You know what isn't that innovative? Cash. But in cardless Africa, it is still king, as Uber has been finding.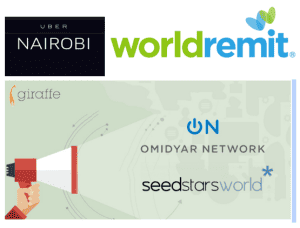 Struggling for growth in Nairobi after its January 2015 launch, the company is now seeing strong growth having started allowing users to pay with cash. So successful has the model been, in fact, that it is now being replicated by Uber in Cairo and Lagos.
It's not all about cash, though. Uber is also bringing mobile payments to the table by partnering with mobile payments company, Paga, in Nigeria to allow users to pay from their Paga accounts. A combination of hard cash and innovative mobile systems may yet hold the key for Uber uptake in Africa.
Innovative exports
The African innovation ecosystem, however, is catching the eye of those further afield. In March, South African mobile recruitment company, Giraffe won US$500,000 in funding at the global Seedstars World competition, beating off competition from 53 companies from across the world. The company was recognised for its platform, which aims to improve access to job listings for the low and medium skilled jobs market using mobile.
African innovations are increasingly drawing global attention. Kenyan company, Bamba Group, which provides businesses with a variety of data collection and SMS-based customer engagement products, is heading to Austin, Texas to take part in the renowned Techstars accelerator programme, as interest continues to hot up in African innovation.
By Tom Jackson
Tom Jackson is a tech and business journalist based across sub-Saharan Africa, currently in Cape Town. He is a UK-trained reporter and committed to the dream of African development through technology. Tom is looking to present a picture of the "real" Africa tech scene in order to aid better understanding of how it can be used to develop Africa economically and socially. He is the co-founder of Disrupt Africa.