In 2013, business process automation specialist Framework One was selected to participate in Knife Capital's Grindstone Accelerator programme.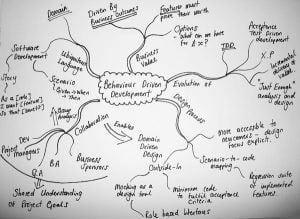 One of the focus areas of the programme is improving the way the business presents itself and explains its services to potential customers.
It was around this time that Framework One's new PR campaign which had gained momentum, was starting to slow.
If it was to grow and get noticed, Framework One would have to work on clarifying it's purpose and distilling its messaging to something that the average business person would understand.
DUO Marketing + Communications, Framework One's PR and marketing agency was on hand to help.
Challenge
Framework One's services are very complex and esoteric. This complexity was reflected in the company's messaging, not only on its website and marketing materials, but in the stories it was pushing out to press. The messages were vague, jargon-filled and focused on the features of Framework One's offering rather than  on the benefits they unlocked.
As is so often the case, everyone had become comfortable with this messaging - it was 'safe'. But writing enticing stories, and securing top tier media placement was difficult.
Solution
What was missing was the 'why'. Why did Framework One exist? Why did its employees get up and go to the office every day? Why had its clients come to rely on it for process automation?
Despite the seemingly 'dry' nature of the business, talking to the company's CEO, Alexander Mehlhorn, was a revelation. He was passionate, innovative, inspiring.
The challenge was to translate Alexander's passion and clarity of purpose into writing. Ideally, into just four words - a tough task that forces you to focus on the single biggest thing you want to the world to know about your business and its purpose.
Using famous examples, including Facebook's "keep up with friends", and Google's "Easily find useful information", as a guide, DUO worked through previous stories and marketing materials, rewriting Framework One's boilerplate content.
From that, we created a list of slogan options that were presented to Framework One for review.
Result
The slogan they chose was: "Business evolution through automation."
The line is simple and easy to understand. It makes a complex offering much more accessible, even to people who don't understand the technical details. It clearly frames the benefit of process automation.
This new clarity helped Framework staff articulate their value, and was put up on the wall in the office for everyone to see.
It also opened the door to a new type of story. We were no longer forced to stick to IT-only publications. We had an anchor that made it easier to talk to a broader, more business-focused audience and get stories placed in Entrepreneur, FinWeek, MoneyWeb and even You and HuisGenoot, culminating in a live studio interview on CNBC's Power Lunch with respected business journalist Alec Hogg. The audience was suddenly much bigger than we could have imaged just a year ago, and the company's marketing efforts have been much more streamlined and effective ever since.
Would you like to work with DUO?
News from our clients
DUO Admin
While many South African businesses, across sectors, have extolled the benefits of rapidly moving to a remote working model (reduced overhead costs, no commuting, etc), fewer have highlighted – and proactively tackled – the weaknesses [...]
DUO Admin
The retail environment has come under increasing pressure given both the challenging economic environment and increasingly sophisticated customers who are looking for an integrated digital experience. This requires a rethink on how best to create [...]