DUO used traditional public relations as well as digital marketing in order to build brand awareness for Parket, a local technology company that uses the Internet of Things and the cloud to deliver a turnkey, contactless and cashless parking solution.
Parket is a Smart Parking Management Software Platform company that is headquartered in Cape Town. Having commenced operations in early 2019, the company is fast becoming  recognised as the disruptor in the parking management and access control space. The organisation owns its IP, which it developed here in South Africa.
Parket delivers an intuitive software management platform that interfaces seamlessly with IoT driven access technology to bring about real business change, that landlords and parking management companies are striving for. The company has introduced a No-Touch, cashless and ticketless parking system that comprises Licence Plate Recognition and QR Code enabled access with mobile app-based pre-booking and payment facilities.
Challenge
Being a relatively new entrant in the commercial real estate/ facilities management marketplace, Parket was looking to significantly improve visibility of its brand, raise the profile of its founder, and position the company as a provider of holistic parking management solutions in South Africa. The company also wanted to generate leads/interest from relevant target organisations through its marketing and communications activities.
Solution
In order to meet these objectives, DUO proposed an integrated marketing and communications approach that included the development of the company's marketing and communications strategy, and the use of high-quality thought leadership content to drive editorial placement and secure media interviews. Highly targeted LinkedIn advertising was further used to amplify content to a relevant senior audience within the commercial real estate, facilities management and hospitality sectors.
Results
In the first three months of the project, four pieces of original content were drafted, with 31 pieces of coverage being generated. Over half of the coverage was secured in general news media, followed by technology, and business sector media. Coverage potentially reached over 1.1 million people based on the daily unique browsers for online articles; daily, weekly or monthly circulation for print publications and listeners for broadcast media. The use of tracking links further helped measure referral traffic resulting from public relations efforts.
The reporting period also featured regular publishing of organic content on the company LinkedIn page, with messaging targeted directly at potential customers – a change from previous posts that focused on consumer communications as well as a few posts around recruitment – helping secure just under 2 000 organic impressions of page content.
In order to bring brand visibility among existing and potential customers, four highly targeted LinkedIn advertising campaigns were aimed at senior employees and C-Suite executives within the commercial real estate, facilities management and hospitality industries. In all, these campaigns generated over 292 000 impressions of Parket content among key target organisations. In all, LinkedIn efforts helped drive ~13% of website traffic over the reporting period.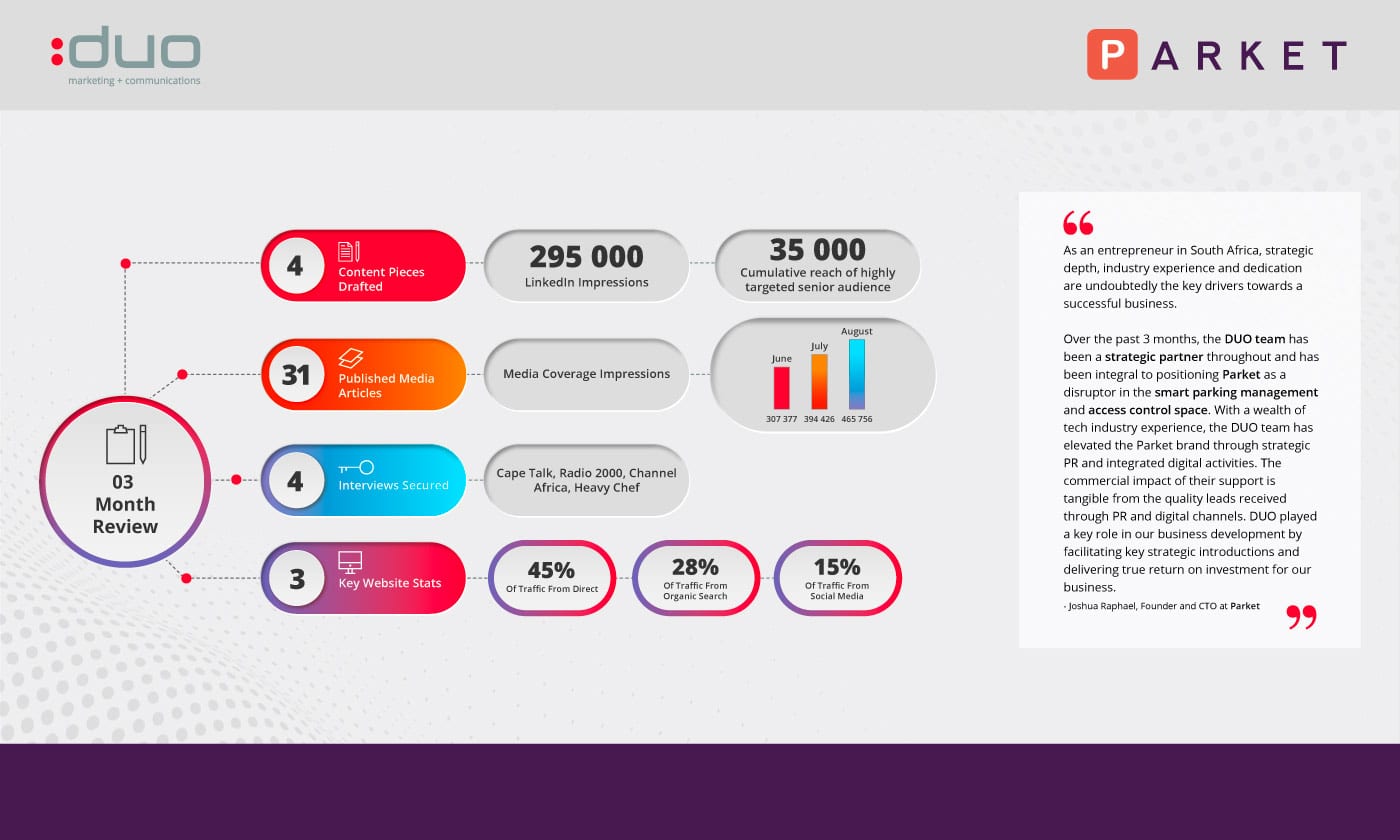 Highlights
Key media coverage secured throughout the 3-month period includes top tier features in the Daily Maverick, Business Insider and Disrupt Africa, which significantly boosted traffic directed to the Parket website. By positioning Joshua Raphael as thought leader in the business and tech industries, DUO secured media interviews and commentary opportunities with Cape Talk, Radio 2000 and Channel Africa.
LinkedIn campaigns performed above expectations at the start of the campaign, with the total number of paid content impressions exceeding the target by 3.2x and cumulative individuals reached by the adverts exceeding the target by 20%. Best performing organic content included videos developed for marketing purposes, as well as amplified news coverage.
Would you like to work with DUO?
News from our clients