Telviva is a regional market leader in cloud-based communications for business. Seamlessly integrating voice, video and chat in one intelligent platform, Telviva enables businesses to have better quality conversations with customers, suppliers and staff.
Challenge
For several years, the company presented a portfolio of brands, namely Connection Telecom, Telviva, Fat Budgie and AnD Communications, and has worked closely with DUO to consolidate these brands under the Telviva banner. In addition to traditional public relations, advertising and marketing activities, the company was looking to harness social media in order to raise further awareness of the brand and its products among highly relevant, senior, business audiences.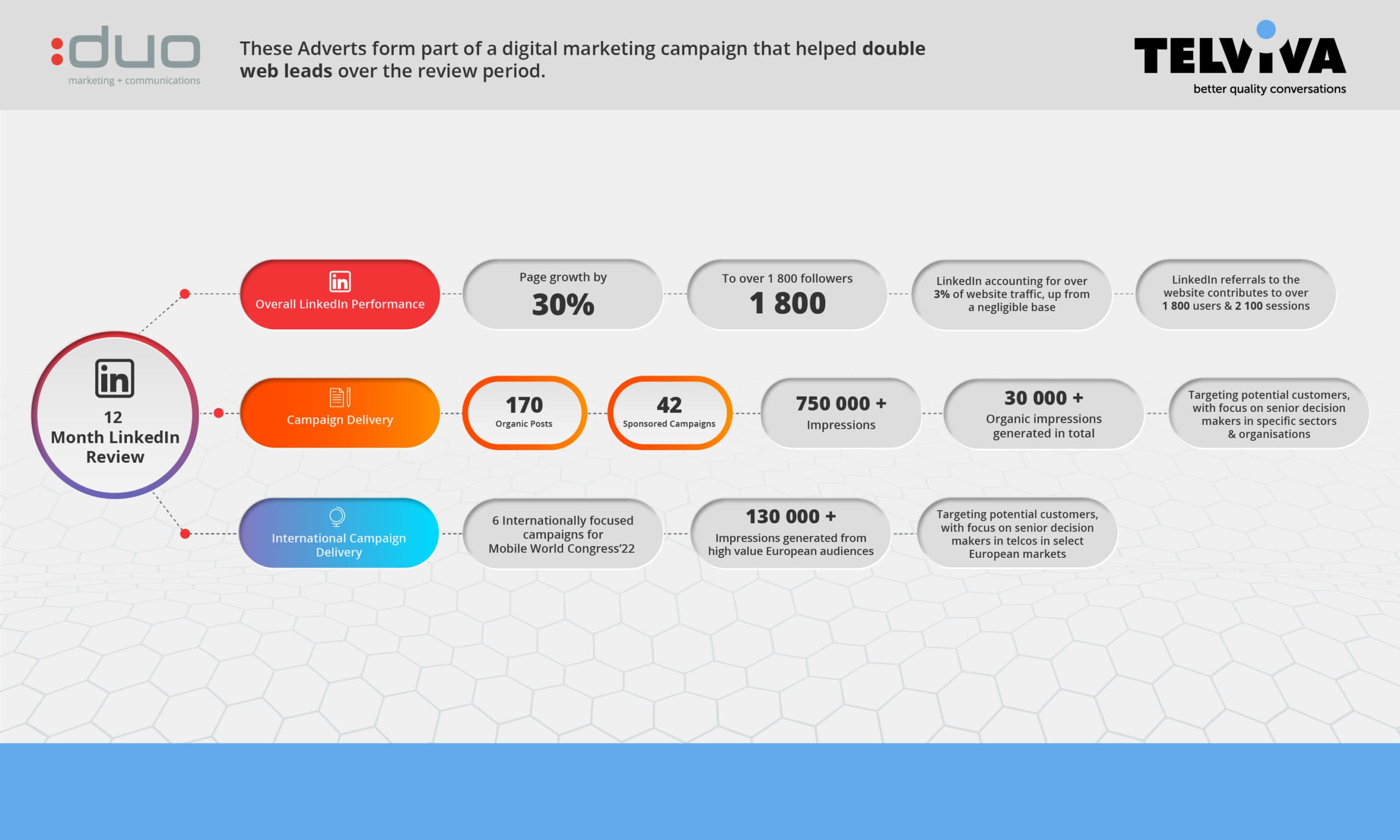 DUO recommended the regular publishing of content to social media, with a primary focus on LinkedIn, the world premier professional social networking platform, which also has over 10 million users in South Africa. While there was a mix of content, preference was given to thought-leadership content and case studies as a means of strengthening credibility in the brand and its business communications offerings. In addition to organic content, highly-targeted advertising was used in order to reach audiences that would play a decision making or influencing role when it comes to the selection of a business communications platform within organisations.
Results
The publishing of over 170 organic posts and 42 sponsored campaigns on LinkedIn generated over 750 000 impressions of Telviva content, with a strong visibility in the financial services, insurance, retail, higher education and industrial sectors. Organic reach has also benefited as the page has grown, with average monthly organic impressions growing by 130% over the reporting period.
Six campaigns developed to support the company's participation at Mobile World Congress in Barcelona secured over 130 000 impressions among senior decision makers and influencers at telecoms companies in several major European markets. These campaigns made use of a mix of content, ranging from amplified thought leadership content, to videos of spokespeople highlighting the flagship Telviva One product and the unique selling proposition for potential resellers. The adverts included a link to a form to book meetings with Telviva executives at the event, with follow up engagements being carried out through email marketing.
Regionally-focused LinkedIn campaigns were also carried out to drive brand awareness of AnD Communications, a Telviva subsidiary based in Durban. Adverts were aimed at senior decision makers and influencers across a variety of sectors in KwaZulu-Natal.
Highlights
The combination of frequent organic posting and advertising has helped grow the following of the LinkedIn page by 29%, with nearly a third of the followers now being people who are in senior decision making positions, ranging from managers, to directors, C-Suite executives and owners. Similarly, nearly 30% of page visitors are also people in influential management or directorship positions, with over 40% comprising senior employees. Overall, LinkedIn efforts contributed to just under 5% of new users (high value business decision makers and influencers) to the Telviva website.
Would you like to work with DUO?
News from our clients
Anish Abraham
It is a bitter irony that in a country with an unsustainably high unemployment rate that there is a biting skills shortage, especially in the IT industry. In this environment, it is not unusual to [...]
DUO Admin
The extended periods of higher-stage load shedding over the past year has forced South Africans into action. It is just not feasible to sit around and hope the national power utility fixes the mess as [...]