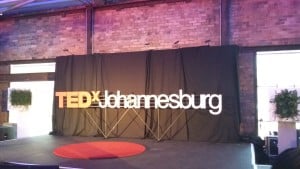 Two years into my PR career and bearing a wealth of consumer experience, I never imagined myself branching into the tech space (B2B tech to be precise!).
Whenever I speak to a tech geek, there is always a palpable glaze over my eyes when they mention all the technicalities which sound gibberish to me – ignorant me, little did I think that one can also find creative and innovative ways to communicate a client's business in the tech space too! Therefore, this move is to broaden my knowledge, learn as much as I can and to eventually know what tech geeks know!
"To know and not do is yet to know." Buddist proverb
I recently attended my FIRST tech industry event – TEDx Johannesburg. The theme this year was Moonshots. I was super excited and thought this would be a great way to gain insights about the tech industry, see how techies think and work – plus, I was looking forward to networking!
Each speaker had 15 minutes to blow us off our chairs and this is what blew me off MY seat:
Amsterdam based Cultural Entrepreneur and Director of

Rijksmuseum

Wim Pijbes touched on how the internet has changed how they see art. Most people see art as just a painting on a wall at home; at an art gallery or museum and for some it's how they express themselves, but with technology a lot has changed. When Pijbes was asked, how do you change the face of museums using digital? He answered profoundly and said, "By making all masterwork freely available." 
Next on my list is a young entrepreneur, founder and CEO of a Dutch startup that builds software to analyse nature reserves and farms. The software creates 3D maps and detects objects (e.g. animals, humans and cars) in images taken by drones using artificial intelligence. The technology was developed to help rangers combat rhino poaching, but has numerous other potential applications. 
Last but not least, I was inspired by Simon Bootsma, CEO of Common Invent, the Dutch company responsible for developing the online electronic nose technology that is now the base of air quality monitoring networks. eNose networks are operational in the ports of Amsterdam and eNose technology is also being used in the development of electronic noses for medical diagnosis.
Technology is so ingrained into our everyday lives that working in tech PR will mean that I will always be ahead of my peers in knowing what the next tech advancement is. Having listened to all these talks, my perception about technology is that it's not all that dull and boring. You can do so much through tech, from how we view art, to medical issues, to finding solutions in ANY business.