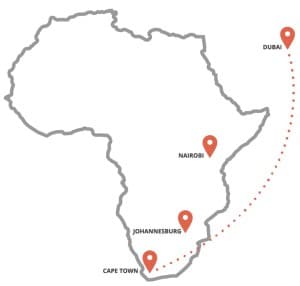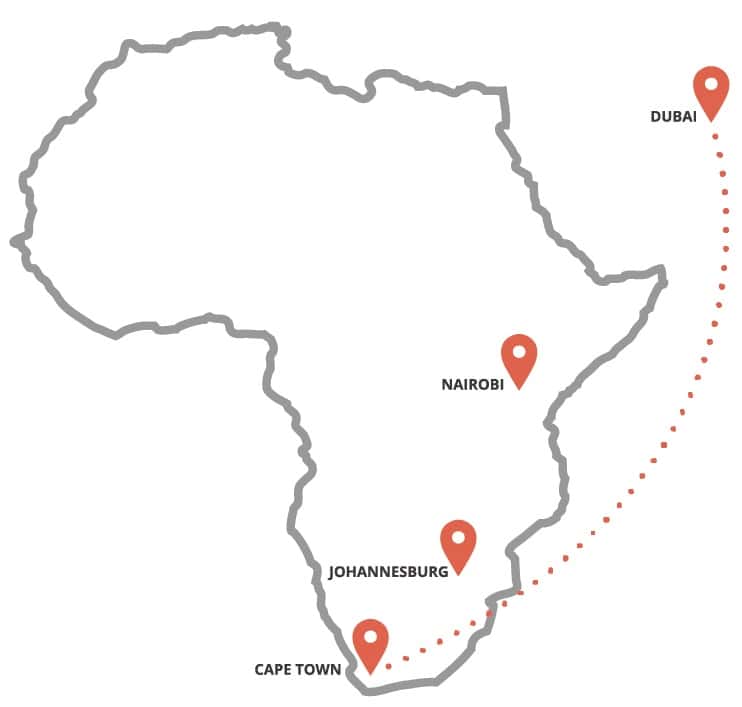 DUO Marketing + Communications, has a map of Africa on our office wall in Cape Town, featuring three cities viz. Cape Town, Johannesburg and Nairobi. We made a very clear business decision in 2015 to physically manifest a Nairobi office by 2016. Dubai is also featured because we have a partner agency, Procre8, based there. This partnership benefits Procre8's clients who wish to capitalise on the emerging growth in Africa's technology sector, and DUO's clients wanting to expand into the United Arab Emirates and other countries in the Middle East.
DUO's approach to servicing clients wanting to reach East African audiences, follows the resolution from the 2015 World Conference for Public Relations and Communications in Emerging Economies, hosted by the Public Relations Society of Kenya, which states "to improve country brands, national pride is a prerequisite. It is based on public relations practitioners understanding the values of their nations and repackaging the emerging economies stories in a way that would attract investment, see increased tourism, and enable those nations to attain a stronger voice at the global level."
We realised, now more than ever, that a physical presence in Kenya was imperative to enhance our service offering for existing clients who have local partners or physical offices in Nairobi, as well as prospective clients. With our Johannesburg and Cape Town offices strong in capacity and skill set, physical expansion into Kenya presents an exciting new challenge.
I was beyond excited to be given the opportunity to travel to Nairobi, on a seven day fact finding mission. Below, are some of the highlights of my time there.  
From tech hubs to Matatu rides
The value of strategic media relationships was instrumental in supporting DUO's mission to learn more about the tech ecosystem in Nairobi. My visit to the capital of Kenya was amplified with the setup of 11 meetings which would not have been possible without the assistance of a Nairobi-based partner.
The main goal was to listen and engage with tech entrepreneurs based in Nairobi, including our client Flickswitch. Renting desk space at the Nairobi Garage tech hub and arranging a few meetings at the iHub space, was the best way to witness the unique energy of various entrepreneurs keen to expand and nurture their technology ideas. I was very grateful that the founders, CEOs and business development managers set aside some time to connect with me. Companies included: Mdundo (music platform), BidX.net (entrepreneur/mentor/investor match platform), Paykind.co (fintech), Ma3Route (transport), Chura (mobile airtime/ cash transfer), FarmDrive (fintech), Maramoja (transport), Uber Kenya (transport), Shield (fintech) and uHa$ibu (fintech).
A common thread from my meetings was that all these tech entrepreneurs are dedicated to enhancing the lives of working class Kenyans by maximising their access to technology resources.
The main challenge most of the entrepreneurs noted was securing investor support to ensure sustainable, long term business development and for others, how best to monetise their ideas. I also received a refreshing dose of honesty from most of the entrepreneurs, who admitted to their lack of understanding regarding the true value of a PR strategy designed to complement business objectives.
When visiting Nairobi, a Matatu ride is a must.  We often hop off a plane in a new city and look for familiar experiences, like taking an Uber ride. However, on day two of my trip, after waiting 20 minutes for my Uber ride due to traffic, I opted to hop onto a Matutu, which I thoroughly enjoyed. Collectively I took about four Matatus and three motorbike taxi rides during my seven day trip. Witnessing the hustle and bustle of the streets in Nairobi from the back of a motorbike ride was a priceless experience. Engaging with the taxi drivers and observing fellow passengers made me appreciate the efforts of the tech entrepreneurs I met on a deeper level, as I got to engage with their end consumers.
If the goal is to understand a community and culture of a different city better, I feel that it's imperative to experience an activity the inhabitants of that community encounter on a daily basis.
One thing was obvious, the passion of the entrepreneurs that I met was tangible – whether they were born in Kenya, or fell in love with the country (like I did) and stayed to help grow the economy by developing relevant technology solutions for locals. There was an overwhelming attitude of "we are just getting started, there is so much more to do, and we are ready for the challenge".
DUO's commitment to being a leading tech PR agency in Africa, was affirmed with our selection as a media partner for the Com World series conferences.